A Comprehensive and Free Photo Editor – WorkinTool Image Converter Review
Introduction
With the burgeoning of social platforms, people are increasingly fond of posting photos on their social accounts. Therefore, the demand for photo editing software is also increasing. When it comes to the best photo editor, you may call to mind Photoshop. Although it is all-around and authoritative in photo editing, it is not for free. To find a free and best alternative to Photoshop, I have tested dozens of free photo editors in the field. This WorkinTool Image Converter is what I'd love to recommend to you.
What Makes WorkinTool Image Converter Prominent
This image converter combines multiple photo editing tools into one. It helps you convert photos to/from 100+ formats, edit a picture as you like, cut out the image and change the background, add special effects to a photo, etc. With its clear and straightforward user interface, beginners can edit and convert pictures without effort. Explored by a professional tech company, WorkinTool, which is dedicated to developing office software, uploaded file data and personal information security are ensured. It provides all users a long-term free trial without any additional request and hidden catch so that you can use it without worry. However, the desktop tool is available for Windows only right now. But its online counterpart is attainable no matter what device you use.
Price: A long-term free trial for all tools
OS: Windows, webpage
Reasons to Have It
Various free photo editing tools
Support uploading nearly all image formats
Friendly to new users with clear interfaces
No backup for the uploaded images
Batch converting images
Reasons to Decline It
The desktop tool is for Windows only
Not all tools have the online counterpart
WorkinTool Image Converter Main Features
As mentioned before, WorkinTool Image Converter has various photo editing tools. I'll elaborate on its most appealing features for you:
Convert a photo from/to nearly all image formats
Cut out the figure or object from a photo
Add or remove watermark to/from a photo
Add special effects to a picture.
Detailed instructions are also accessible here.
· Convert Image Formats
WorkinTool all-in-one image format converter allows you to transform a photo into JPG, PNG, BMP, WEBP, GIF, PDF, etc. It supports the conversion of nearly all image formats. Batch conversion is feasible; you can convert multiple pictures in one go. There are no limits on the uploaded image number and size for the desktop version. You can save your photo to a specific format with a simple drag and drop.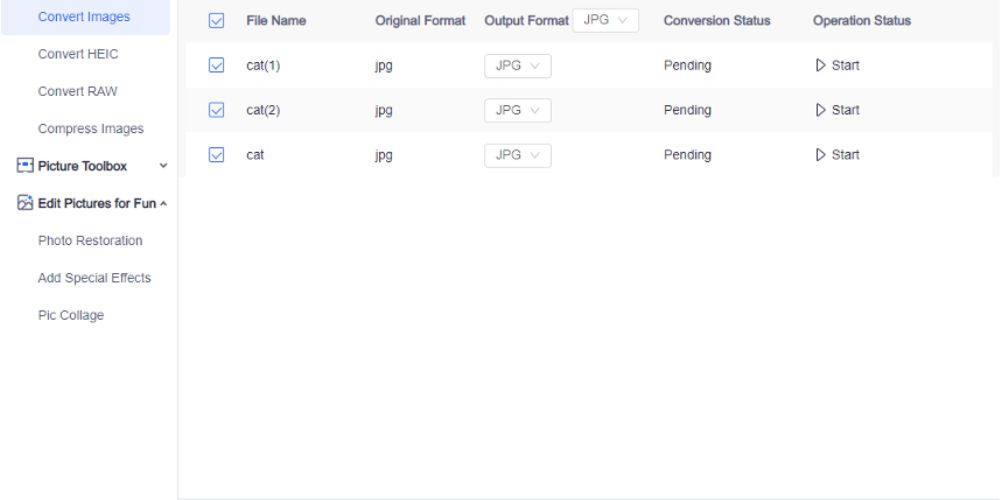 How to convert images to/from other formats?
1. Select Convert Images under the Feature Conversion toolbar. And then upload an image.
2. Add more images if you need batch conversion. Then select the output format.
3. Click Start to convert, then choose view now to check the result.
· Cut-out Image
This feature is not available in most free photo editor software. WorkinTool Image Converter helps you cut out figures, objects, and other things from a photo. It can automatically recognize the item and extract it smoothly. With this function, you can easily make ID photos, change photo layout, remove photo background, etc. There are also plenty of default backgrounds for you to pick. It is feasible to import your picture as a background as well.
How to cut out an image and change the background of a photo?
1. Select Picture Toolbox> Matting, then upload a file. If you need to cut out figures, choose Portrait Mattingto import a picture. If you want to cut out items, pick the Item Matting category.
2. After you upload an image, it will automatically pick the figure or item with a brush. You can adjust the selected area with a brush and eraser.
3. Click Change Background to make the photo background transparent or add new background. You can add your photo as a background by choosing Customize.
· Process Photo Watermark
Another key feature of it is to edit watermarks in photos. It fulfills removing watermarks from photos without making any blur and adding text or image stamps to photos in bulk. With this usage, you can easily remove annoying watermarks from your photo or add a personal watermark to enhance the copyright security of your image.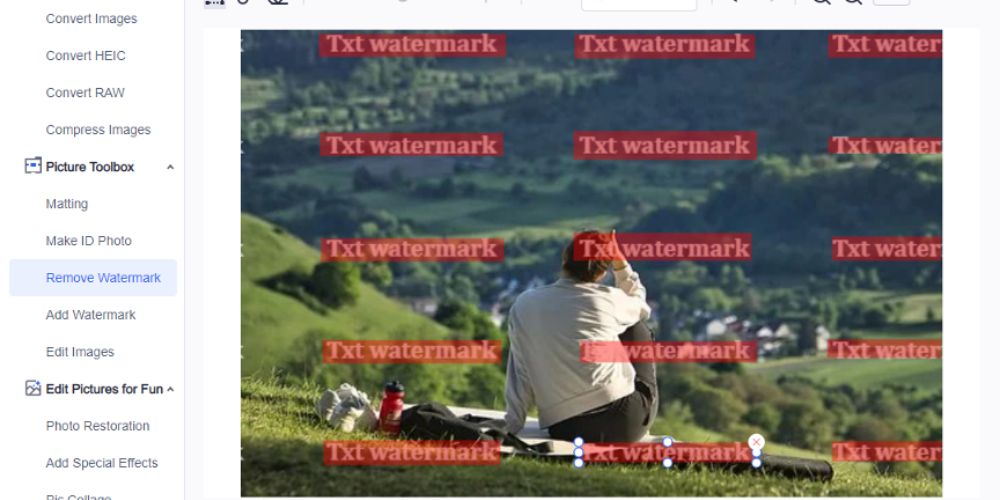 How to process photo watermarks with WorkinTool Image Converter?
1. Add images to the Picture Toolbox> Add watermark column.
2. Add a text watermark or upload an image watermark. Then customize the watermark's size, location, transparency, and other parameters.
3. Click Save Now to download the photo with a watermark.
Remove watermark from photo
1. Choose Picture Toolbox> Remove watermark and upload an image with watermarks.
2. Pick the watermark using the brush or the rectangle box. You can select multiple watermarks at a time. Then click Remove Watermark to start.
3. Press Before/After to preview the result, then click Save Now to download the converted photo.
Add Effects to a Picture
In addition to several standard photo editing tools, it also contains several tools that can add special effects to a picture. Specifically, it can make a photo a comic character, change the gender, make yourself younger and older, etc. Its built-in AI converter can automatically convert the picture with special effects.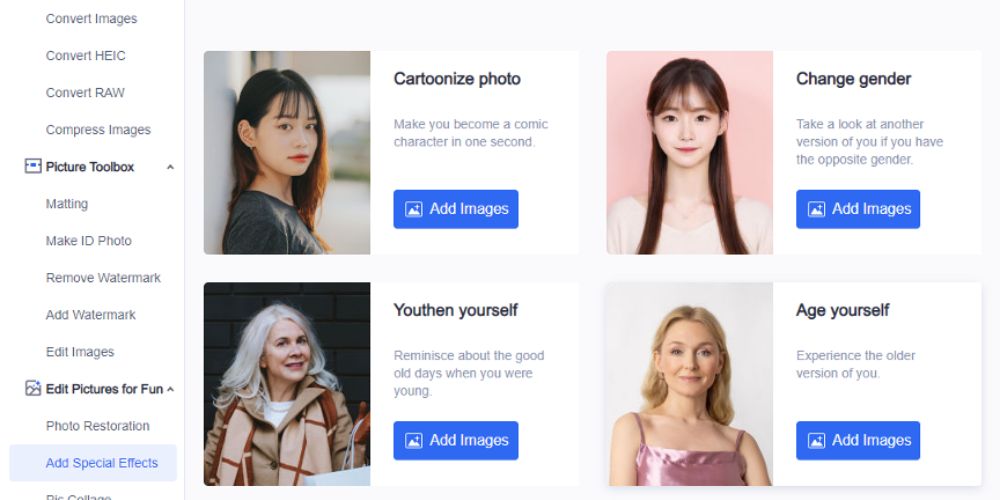 How to add special effects to a picture?
1. Select Edit Pictures for Fun> Add Special Effects, then pick an effect you want to add to your photo.
2. Click Add Image to one column, then it will convert your photo directly.
3. Check the result, then press Save Now.
Final Verdict
I recommend WorkinTool Image Converter because it combines many photo editing tools but is free for users. Various helpful features of it are not accessible in other free photo editors. In addition to the above functions, many other usages are waiting for you to explore, like compressing images, repairing old photos, changing image size, etc.